REBLOG! The 20 Coolest New Office Spaces
Corporate offices marked by outdated technology, closed cubicles, and gossip around the water cooler are slowly becoming a thing of the past. Companies like 

Google, SoundCloud,

and 

Airbnb

 have paved the way for a new work experience with open floor plans, colorful decor, and large-scale athletic centers. With a number of companies worldwide incorporating innovative design into new office spaces, work is looking a lot more fun.
From impressive architecture to lust-worthy amenities, like fully stocked bars, treehouses, and nap rooms, 
The 20 Coolest New Office Spaces 
are some of the most unique work spaces on the planet.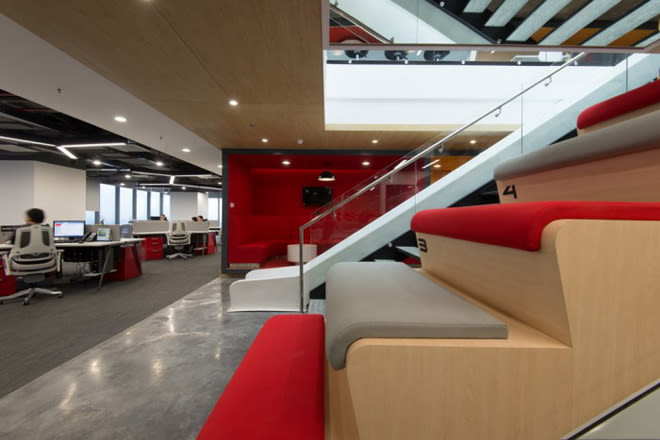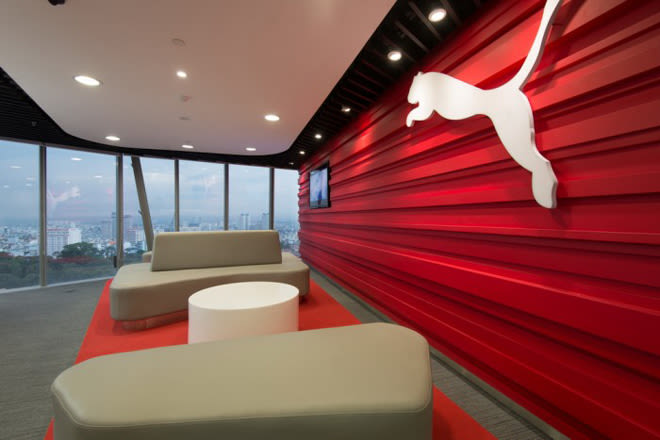 Puma - Vietnam
Puma's new office in Vietnam is in-line with the company's new strategy: Faster Forever. Each meeting room has a specific theme, including football, golf, and even a racetrack. The most attention-grabbing features are the large leopards scattered throughout the office. Overall, the space captures Puma's dynamic spirit.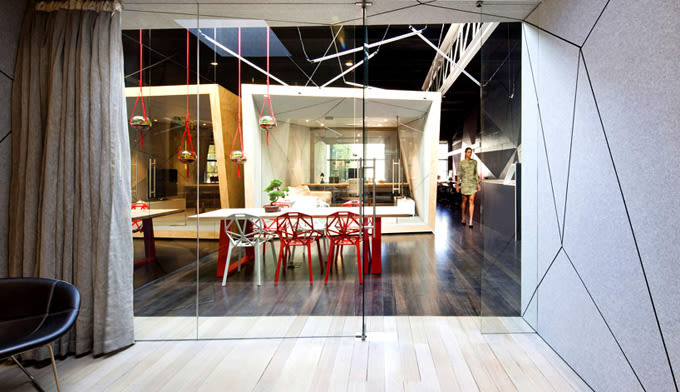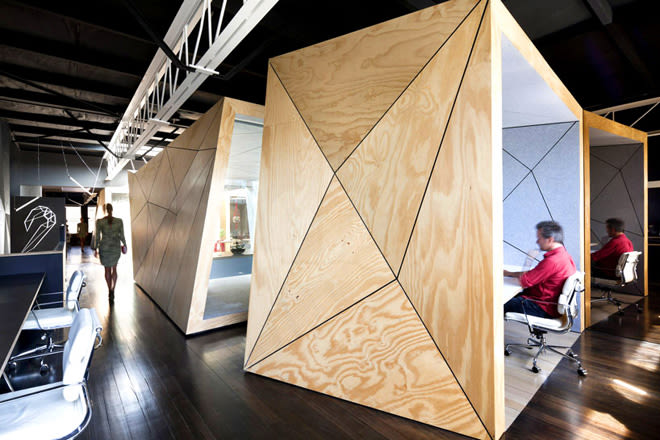 Compulsive Productions - Australia
Australian film production studio Compulsive Productions' new office space is about as interesting as it gets when it comes to architecture. The layout references historic devices of photography and film, such as lenses, glass, mirrors, and aperture blades. The decor includes vintage equipment, vinyl records, and musical instruments. In the evening, the space is organized for different stages and events, an atmosphere that's enhanced by low-key lighting and dark reflective surfaces.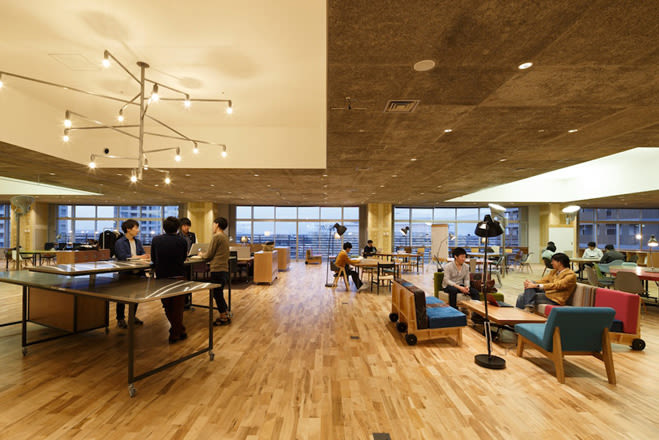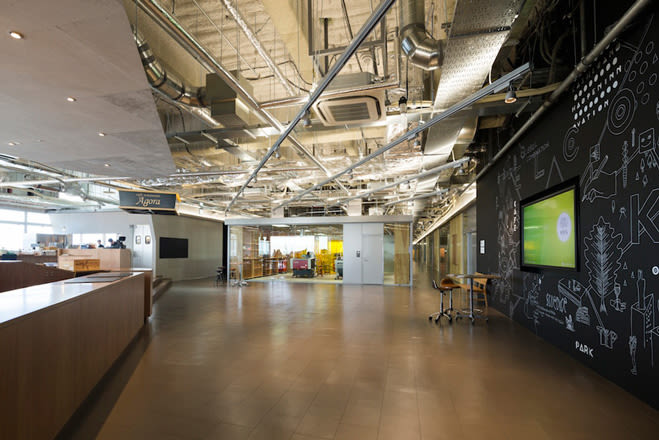 Koil - Japan
KOIL's offices provide a place for a number of companies and individuals to work toward their creative ambitions. The non-traditional office environment is complete with a central communal zone, workstations that adjust to employees' needs, open work areas, shops for manufacturing, conference rooms, cafés, and relaxation spaces. To enhance the effect of the open floor plan, many walls are left unfinished.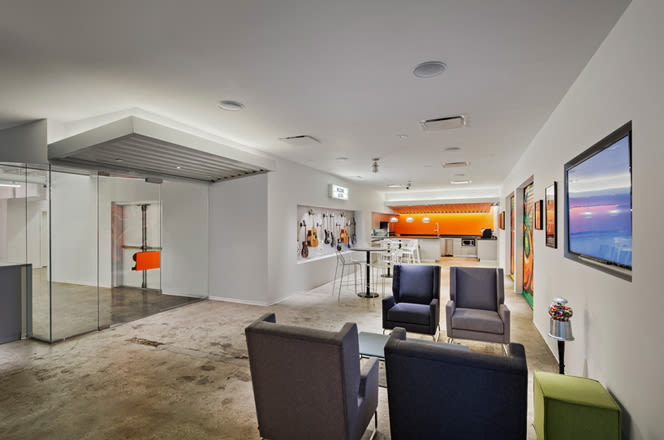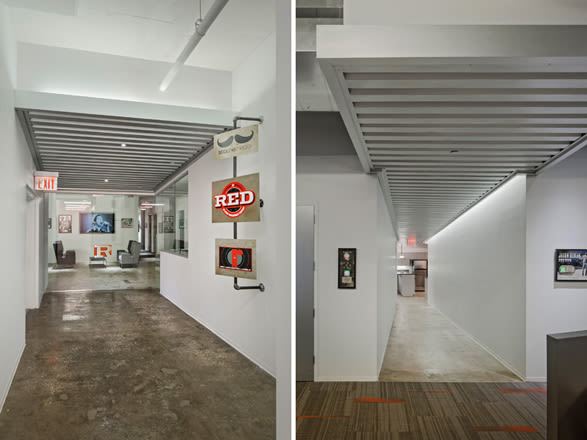 Red - New York
RED, the distribution division of Sony Music Entertainment, has an awesome new headquarters thanks to design experts Spacesmith LLP. The office was the designed so that workers can easily host events, meetings, and performances by artists represented by the company. The place boasts a playful atmosphere, with graffiti-painted garage doors linking the reception area to a large conference room. The office is also filled with colorful furniture, meeting pods wrapped in acoustic foam, a vintage diner booth, and murals on the walls.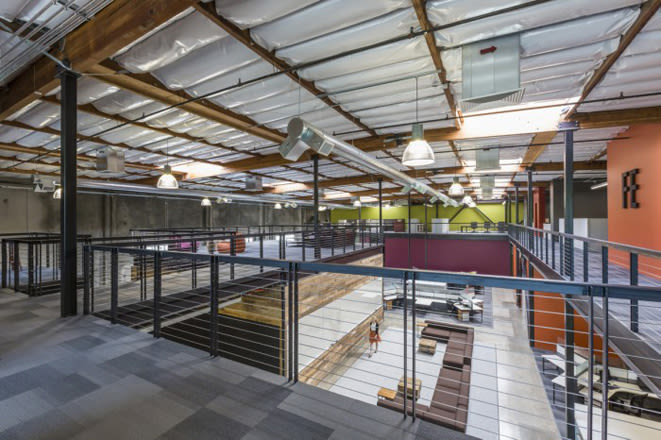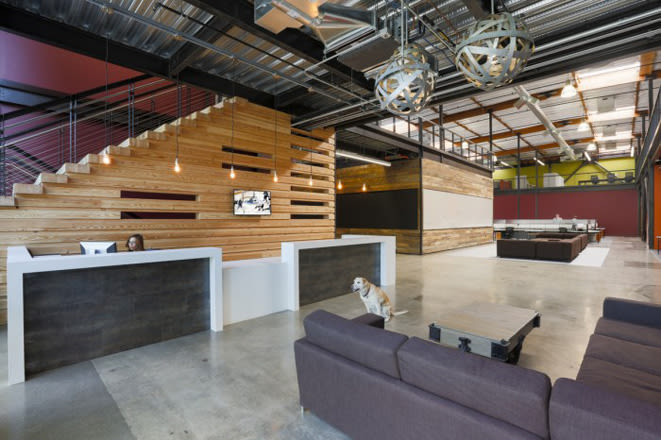 Iron Construction - Calif
Even the exterior of Iron Construction's new office, a façade of metal and glass, boasts a level of quality that shows that the company's good at what it does. The 27,000-square-foot building features an open floor plan with 28-foot-high ceilings and windows that allow for plenty of natural light. In addition, exposed wide-flange steel structures, recycled barn wood, and polished concrete floors add to the office's industrial look.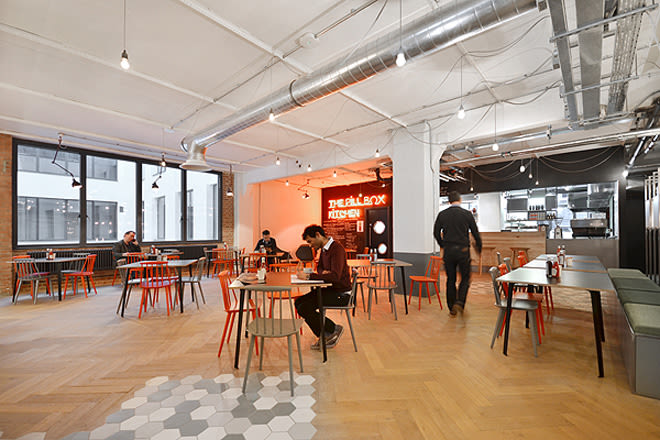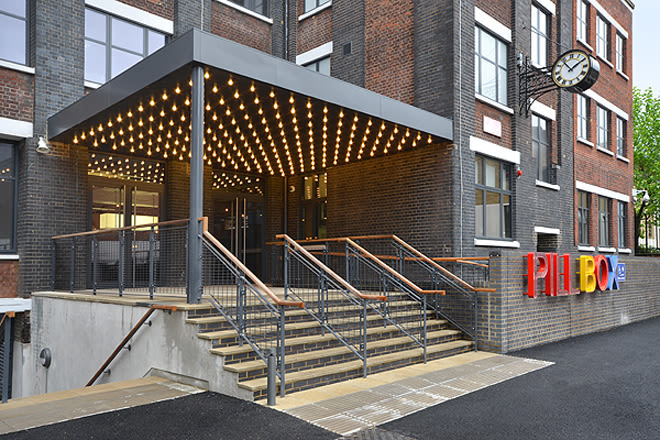 Club Workspace - London
Dubbed "The Pill Box," this office is based off of an open floor plan and allows for easy mobility. The actual building was originally constructed as a pharmaceutical manufacturing building. That heritage shows through, offering workers a uniquely vintage atmosphere. The entire space resembles a modern cafeteria, with bench seating and colorful furniture that accents the brick walls.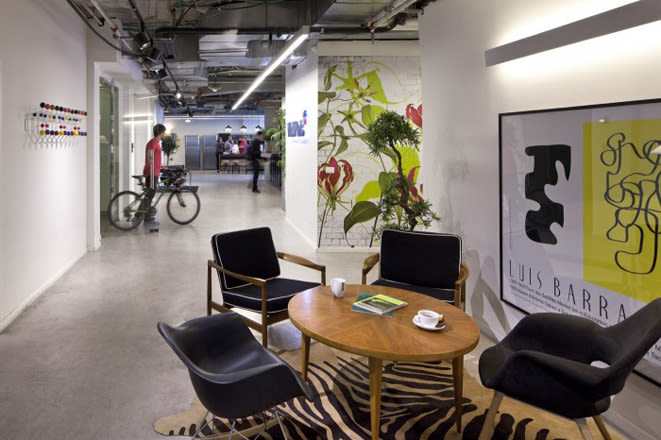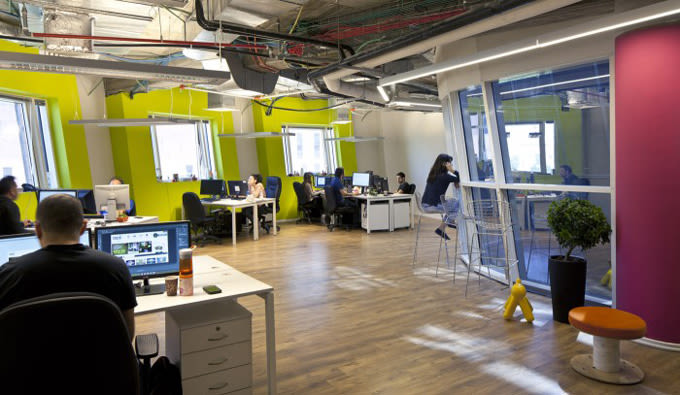 Webpals - Israel
Webpals is a large promotion agency located in Tel Aviv, Israel, and we're jealous of their new office. From the cartoon-inspired murals to the jungle-themed decor, the office has a very vibrant and playful atmosphere.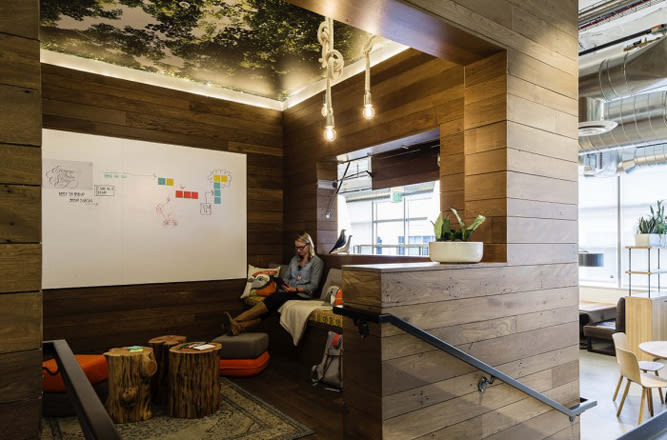 Dropbox - San Francisco
Dropbox is growing fast, so this year the company had to move into a new office space in San Francisco. The 13,000-square-foot space is located in the same building as Dropbox's old offices and was built to house 500 employees. There are several open lounge and meeting areas, high ceilings, and plenty of windows for natural lighting. The space also boasts a full-service kitchen as well as a "treehouse," an enclosed meeting space that features comfy couches and whiteboards.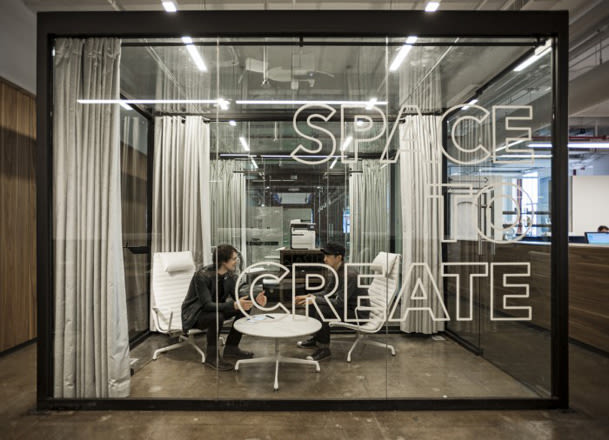 FiftyThree - New York
New York-based design firm FiftyThree needed an office space that promotes teamwork, creativity, and collaboration, not simply a workspace. +ADD came up with a design for the company that strongly adhered to its culture and values. The interior is comprised of black steel beams, walnut wood, glass, and raw concrete. The entire space is accented with white furniture, an all-white marble kitchen space, and wild botanical life. Other features include art installations by Miriam Cabessa, hand-painted signage, adjustable custom desks, and a drawing robot.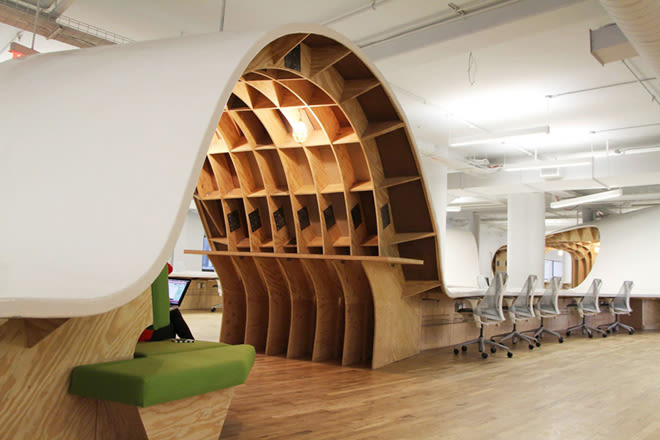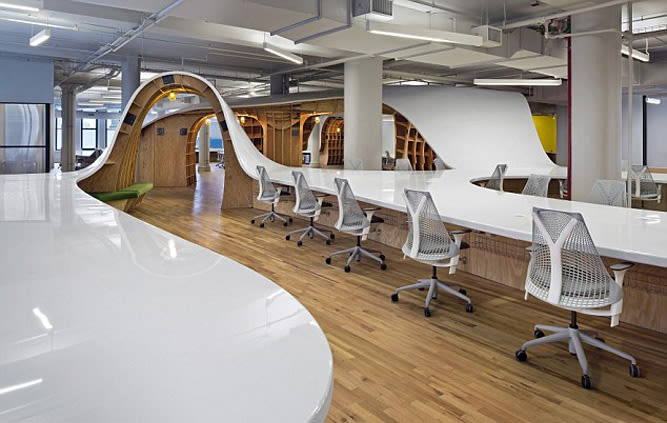 Barbarian Group - New York
The Barbarian Group's new office in New York boasts a shared "superdesk," designed by Clive Wilkinson Architects, which is essentially an elongated work station that slopes up to create archways and drops down again onto a level plane. The desk features bench seating and smaller tables built into the structure, offering alternative areas for employees to collaborate.
It Works! - Fla 
Consumer health products and lifestyle company It Works! recently moved into their new four-story, 50,000-square-foot office in Palmetto, Fla. The company's corporate color, a bright, olive green, is thoroughly incorporated into the interior design. The space is complete with a penthouse entertainment area that features a putting green. In addition, the first floor boasts a "Freedom Wall" that provides workers with an opportunity to post stickers detailing their personal goals.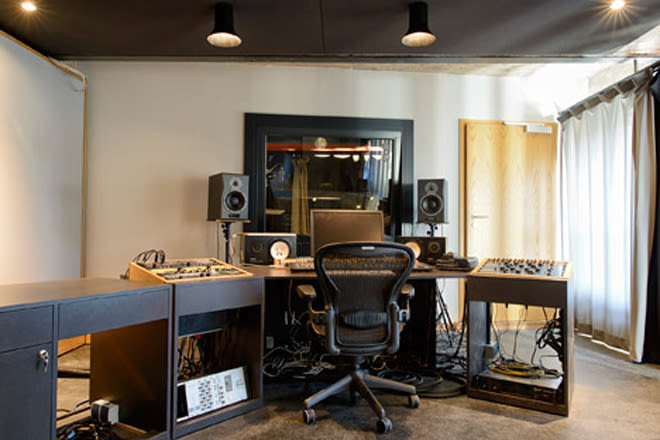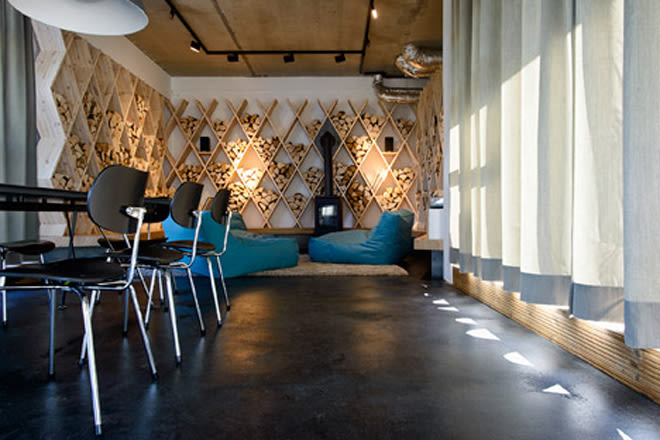 Soundcloud - Berlin
Soundcloud's new Berlin office spans three stories throughout Factory, a 16,000-square-meter office that houses various global startup companies. Each conference room is named after a different neighborhood, and the space provides plenty of natural light. The office resembles the layout of a modern art studio because it allows for easy mobility and collaborative work. A special room serves as SoundCloud's very own recording studio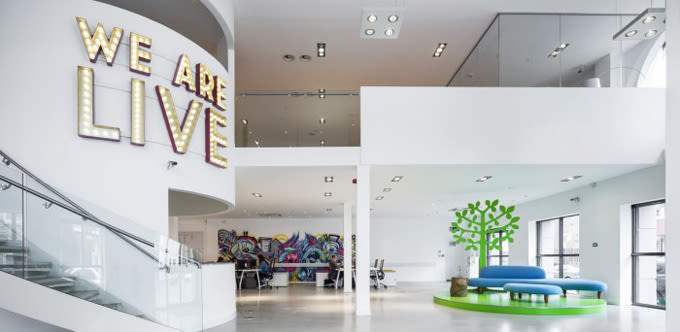 Verve - Dublin
Verve employs only 24 full-time professionals, all of whom have a playground for an office. The company's new office is located in Dublin and was designed to promote informal collaboration among employees. Some design features include a treehouse, colorful furniture, and graffiti-covered walls. Also, a vintage 1973 Citroen DS was remodeled four-person meeting space.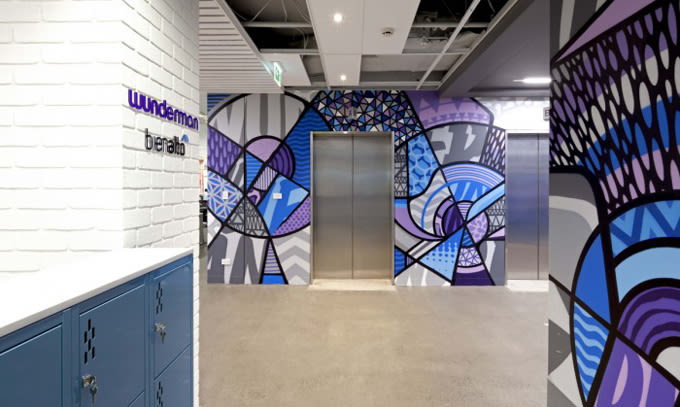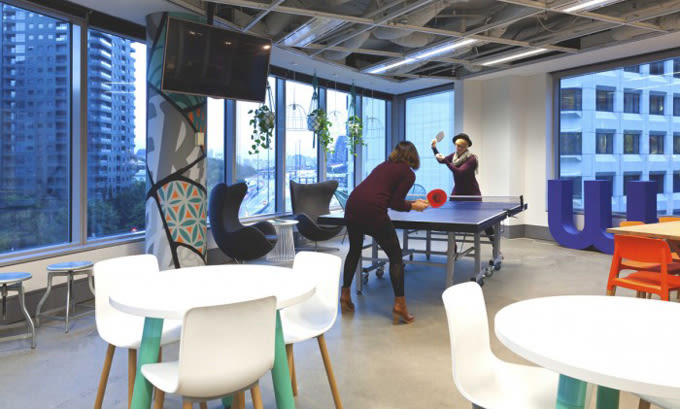 Wunderman and Bienalto - Sydney
When Wunderman, the world's largest global digital and relationship marketing network, acquired a majority stake in Sydney-based digital marketing firm Bienalto in 2012, the two companies came together under one roof. The overall design of the new Sydney office is vibrant, with murals designed by Australian street artists Numskull and Beastman. The layout allows for several different types of work spaces, including bench-style workstations, project tables, enclosed booths, small quiet rooms, meeting rooms, and a large communal area.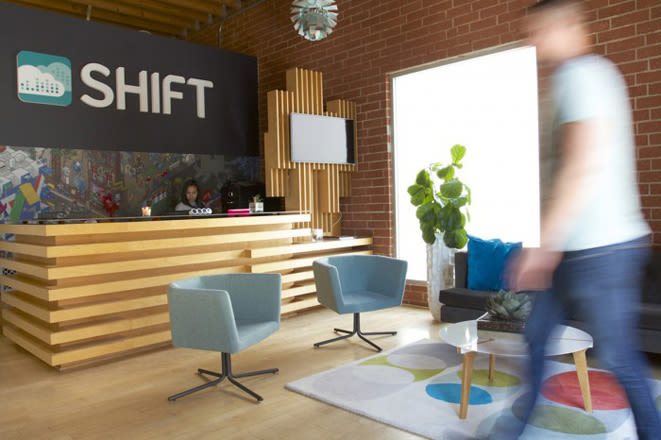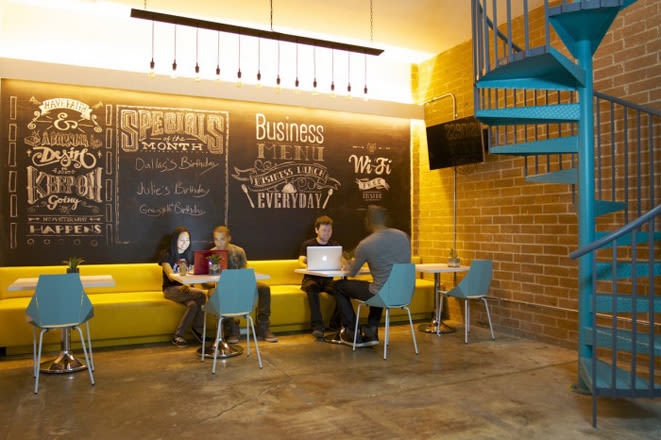 SHIF - Los Angeles
SHIFT is a Los Angeles-based social advertising software company, and their new office space is innovative in its design and amenities. The office space is an eco-friendly hub, complete with LED lighting that saves energy, flicker-free bulbs, and motion light sensors. Employees have the option to use standing desks, and the interior is covered in bright colors and playful decor.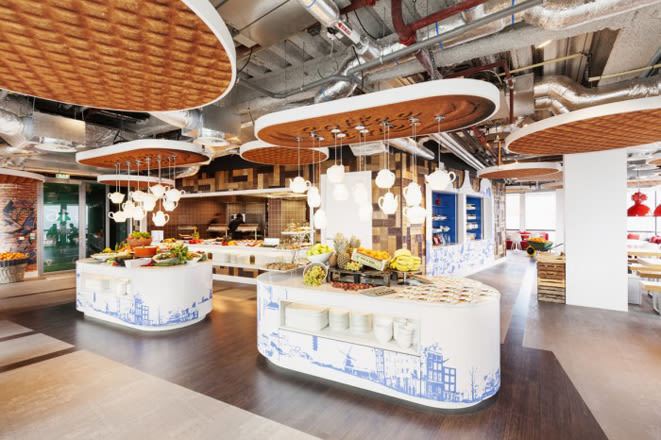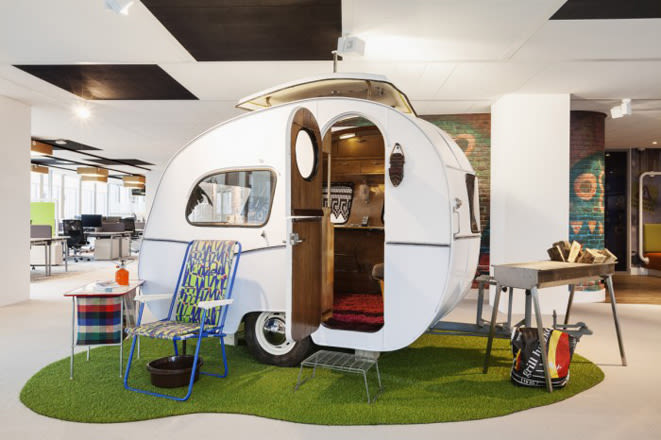 Google - Amsterdam
With its reputation for playground-like offices, it's no surprise that Google's latest outpost in Amsterdam is insanely designed. Many of the walls are covered with graffiti, and the space has exposed ceilings. The layout allows for easy movement and collaboration. It's also structured so that every workstation is adjacent to a window, offering employees 180-degree views overlooking the city. Existing furniture, individual work places, and parts of the micro-kitchens were offered a second life in the office. The new office is complete with a gym, meditation room, and desk bikes.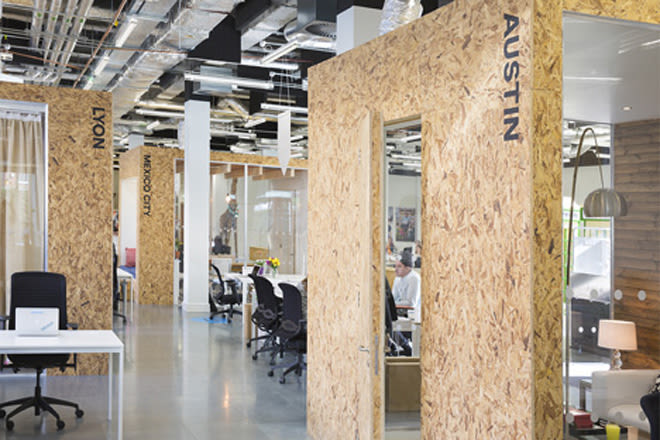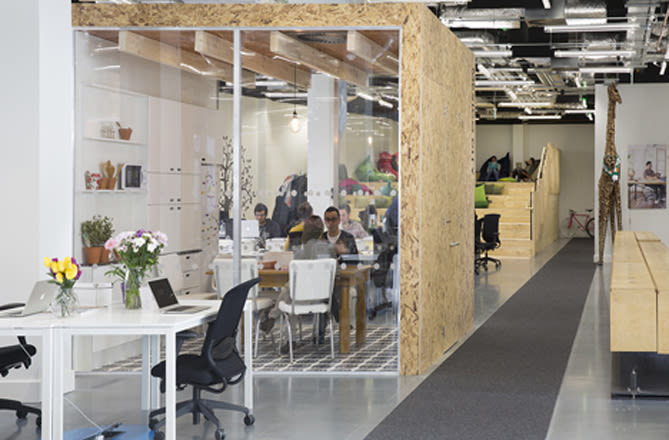 Airbnb - Dublin
Airbnb's new office in Dublin was modeled after an Irish pub and is complete with pub-inspired bar stools, furniture, and most importantly, a horseshoe-shaped bar. The space boasts a diverse set of collaborative workspaces, such as a giant wooden step area that's scattered with cushions and meeting pods designed to look like apartments. To add to the space's Irish pub-inspired decor, a pair of Irish telephone booths for private phone calls are found in the lobby.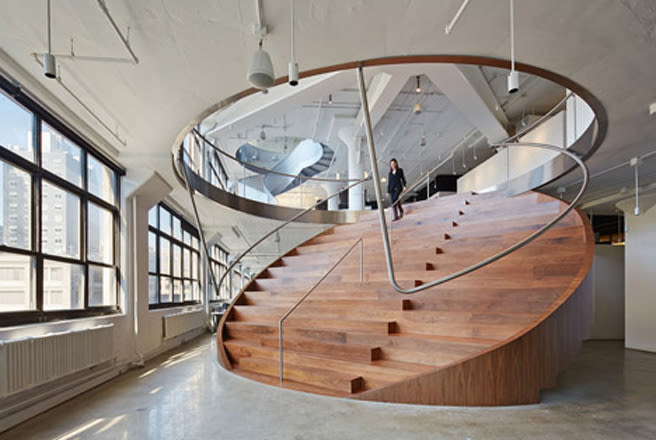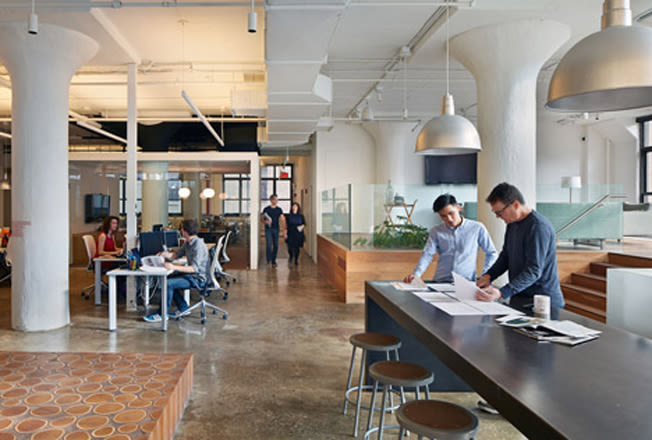 Wieden+Kennedy - New York
Wieden+Kennedy's New York office takes a non-traditional approach to design. Meeting spaces range from 10-foot-long blackened steel tables to cozy lounge areas to private indoor phone booths. Employees also have access to a fully stocked library, a multi-purpose gym, a bar, and a recreation center. The coin staircase, the office's focal point, allows easy access between departments.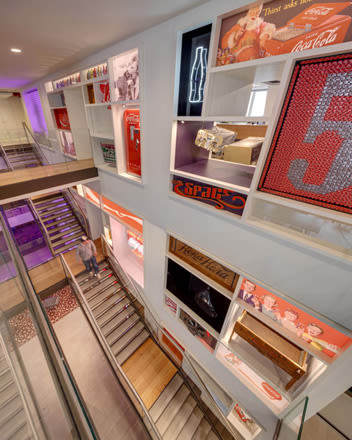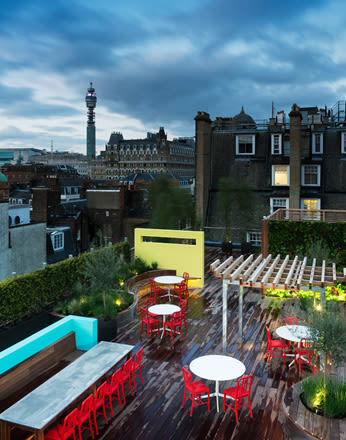 Coca Cola - London
Coca-Cola UK's building covers 66,000 square feet and spans four floors. Employees can lounge on the roof terrace, which is complete with barbecue accommodations, apple trees, and a wild meadow. The office truly highlights the company's history as a pop culture icon, featuring colorful murals, an LED-lit wall made of 5,000 recycled Coca-Cola bottles, and a display wall of Coca-Cola memorabilia that stretches three floors. Completely transformed and renovated, it's hard to tell that Coca-Cola's newest office space was once a building dating back to the early 1900s.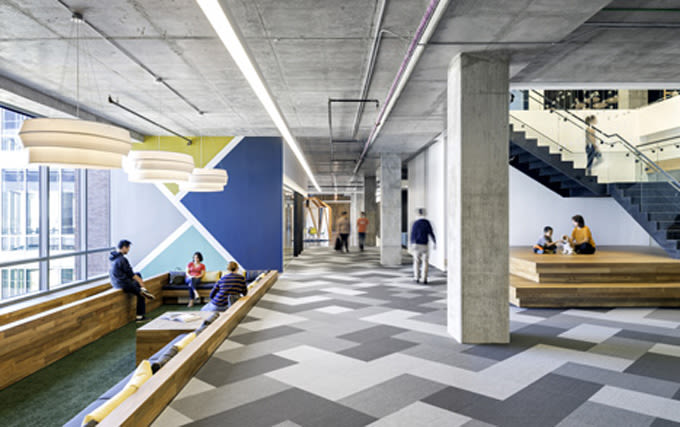 Cisco-Meraki - San Francisco
Cisco-Meraki is another tech company with awesome new digs. Located in San Francisco's Mission Bay neighborhood, the 110,000-square-foot suite provides workers with panoramic views of the city's waterfront. The company's new office is equipped with both indoor and outdoor meeting spaces, where employees can relax in yurts and cabanas. Chalkboards, whiteboards, and corkboards can be found scattered throughout the building so employees can easily jot down their ideas.
[Source:
Complex
]